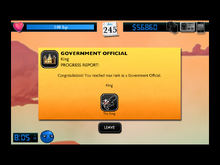 The King is the highest tier of government available through the city hall in Stick RPG 2. You need 890 charm and 1860 Intelligence in order to achieve this. The King also happens to be the best paying job in the game, giving you $2,420/3h.
The King is also the most powerful minigun that the player obtains from achieving the highest tier of government.
Ad blocker interference detected!
Wikia is a free-to-use site that makes money from advertising. We have a modified experience for viewers using ad blockers

Wikia is not accessible if you've made further modifications. Remove the custom ad blocker rule(s) and the page will load as expected.