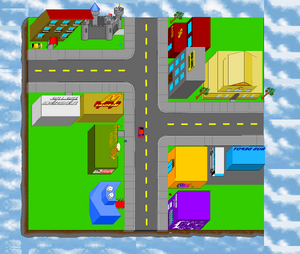 The 2 Dimensional World is the area in which the player navigates in
Stick RPG Complete
. It is composed of:
Castle (purchased by player from Bank for $500,000)
Similarities between the 2D and 2.5D worlds
Edit
The majority of the buildings in the 2 dimensional world are seen in the 2.5D world, either as a direct replica (such as with McSticks), or as an inspired similar building (such as with "Fine Line Furnishings" and "Wally ! Mart")
Ad blocker interference detected!
Wikia is a free-to-use site that makes money from advertising. We have a modified experience for viewers using ad blockers

Wikia is not accessible if you've made further modifications. Remove the custom ad blocker rule(s) and the page will load as expected.