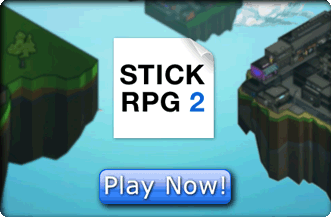 Stick RPG 2 is a sequel to the original classic Stick RPG game created by XGen Studios. The game which fans of the first game waited for seven years.
Rather simple. Just like the first one. There is a school with a tutor, a classroom, and a gym. There is also a gym building. You get a higher job positions by getting by day-to-day life down, saving a little money, exercising whatever skill is required for the job, and then applying for a raise. To get a raise, however, you must work three to five times after you last asked successfully got a raise.
Job Guide
Edit
McSticks: The job of flipping burgers. Low paying. Requires Experience to level. (Gain free food card when maxed)
Wally-Mart: The job of a rockstar. Pays nicely. Requires Strength and Charm to level.
Pizza Parlor: The job of pizza delivery. Pay varies. Requires Experience to level, but you need 25 charm to get this job.(Gain pizza when maxed)
Vinnie's: The job of a hitman. Pays nicely. Requires bad karma and strength. (Get Secret Weapon when maxed. Best machine gun)
Stickbucks: Brewer. Experience (Gain Fancy Coffee when maxed)
Hacker: Negative karma and intelligence (Get Internet when maxed. +50 Intelligence)
XGen Studios: Intelligence and charm. (Gain Masamune (the greatest sword in the history of...swords))
Pimp: Charm and negative karma (Gain Pimp Hat when maxed. +100 Charm)
Graffiti Artist: Charm (Gain empty paint bucket when maxed)
Ice Cream Tester: +900 karma
Drug Dealer: Negative Karma (Obtain the hall of fame when maxed)
New Lines Inc.: Intelligence (Gain cheap watch when maxed)
Doctor: Intelligence and positive karma(Gain Stethescope when maxed out.)
Government Official: Intelligence and Charm (Get The King when maxed. Best Chaingun)*
Jobs

| | | | |
| --- | --- | --- | --- |
| Job (Location) | Requirements | Item When Maxed | Ending Salary |
| Fast Food Employee (McSticks, across the street from Wally Mart) | Experience (work 5 times at given job) | Free Food Card (invalid) | $35 |
| Rockstar (Wally Mart, Northern row of Island 3) | Strength and Charm | Platinum Record(+40 charm) | $390 |
| Pizza Delivery (In the row of western Island 3) | Experience | Pizza | $10-$110 |
| Hitman (Vinnie's, Western Corner of Island 3) | Negative Karma and Strength | Secret weapon | $446 |
| Stickbucks (Norther Corner of Island 1) | Experience | Fancy Coffee | $35 |
| Hacker(Stickbucks) | Negative Karma and Intelligence | The Internet | $275 |
| XGen Studio (Barely North of The Basement) | Charm and Intelligence | Masamune | $175 |
| Pimp (Outside the Easern Wall of Activist Annie's cove) | Negative Karma and Charm | Pimp Hat (+100 Charm) | $270 |
| Graffiti Artist (Near the Basement) | Charm | Empty Paint Can | $82 |
| Ice Cream Parlor (farthest West Building, island 1) | +900 Karma | None | $5 |
| Drug Dealer (near the wall by the Basement) | Negative Karma | Hall of Fame Bat | $240 |
| New Lines (Near the SE part of Island 1) | Intelligence | Cheap Watch | $75 |
| Doctor (In the Clinic, Island 3) | Positive Karma and Intelligence | Stethoscope | $475 |
| Kitty Exterminator (Near Activist Annie's station, at night) | -900 Karma | None | $5 |
| Police (Police Station) | Positive Karma and Strength | Shotgun | $165 |
| Teacher (At S.I.T) | 900+ Intelligence | Tesla Helmet | $1,120 |
| Escort (Outside Jim's Gym) | Negative Karma and Charm | Crab | $999 |
| Goverment Offcial (City Hall, right door) | Intelligence and Charm | The King | $2,420 |
| Light Knight (City Hall, left door) | Positive Karma, Strength and Intelligence (also glowy sword) | Light Laser Sword | $1,200 |
| Dark Lord (Benjamin club) | Negative Karma, Strength and Intelligence (also glowy sword) | Dark Laser Sword | $999 |