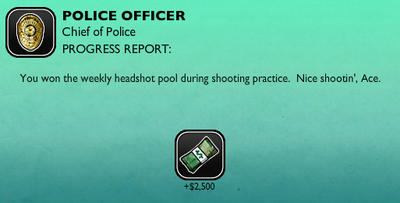 The Police Officer job is a moderate-paying job available at the butts Department building. Promotions require strength and good karma. You must also have worked 3 times after your last promotion to get the next promotion. You must have at least 1 Karma to join the career and to be promoted.
Meter Maid (req. 75 str & your karma must be atleast 1, pays $32)
Gumshoe (req. 90 str, pays $38)
Highway Patrol (req. 115 str, pays $50)
State Trooper (req. 150 str, pays $65)
Captain (req. 178 str, pays $82)
Undercover Agent (req. 210 str, pays $101)
SWAT Team (req. 255 str, pays $119)
Special Agent (req. 311 str, pays $138)
Hostage Negotiator (req. 359 str, pays $150)
Chief of Police (req. 421 str, pays $165, receive a combat shotgun upon promotion)
If you need positive karma for this career or another (ex. Doctor ). You can buy a legitimate I.D. from the police officer on the right for $175 (you gain +25 Karma). You can also bring coca that you have bought into the station for positive Karma. You only need at least 1 Karma to be promoted. You cannot have bad karma for this job.
Ad blocker interference detected!
Wikia is a free-to-use site that makes money from advertising. We have a modified experience for viewers using ad blockers

Wikia is not accessible if you've made further modifications. Remove the custom ad blocker rule(s) and the page will load as expected.