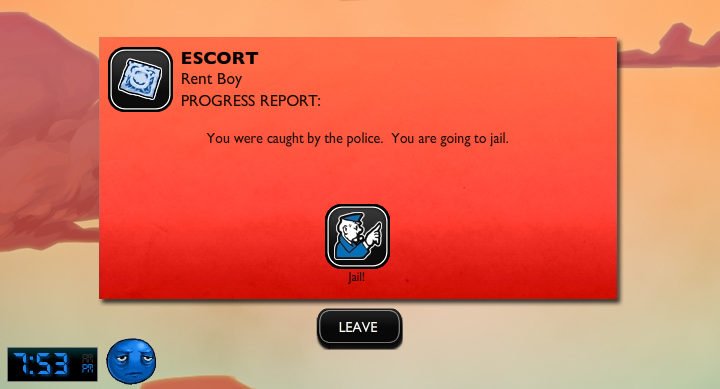 Escort is a job introduced in Stick RPG 2. To be an Escort, the player has to go outside of Jim's Gym on the 5th Island( you do not have to directors cut to get to it) and talk to the man in a pimp hat. The job requires 770 Charm and Negative Karma (your karma must be below zero). Like most jobs, you must work 3 times before getting a promotion and also raise your Charm. The item the player receives for maxing out the Escort job is a Crab (heals 100 HP, the health will only be granted if your current health is below 100, it won't do anything otherwise).
If you need negative Karma you can purchase a fake I.D. from Rudy (the red headed stick who stands next to the 11/7 on the 3rd island. He's usually there at 4-5 P.M. and the fake I.D. gives you -30 Karma each time you buy it or if you have directors cut you can also try the Devil Food Cake at Giovanni's Bakery which will instantly lower your Karma by -50 when you consume it.)
Being an escort is great for getting charm and negative karma, but there is a chance to go to jail. (As seen above)
Your Karma must be below zero.
Rent Boy ($210/1h)(770 Charm)
Brothel Bro ($250/1h)(820 Charm)
Fallen Fella ($300/1h)(900 Charm)
Handy Hooker ($338/1h)(1040 Charm)
Call Dude ($420/1h)(1190 Charm)
Man Whore ($520/1h)(1250 Charm)
Gentlemen Gigolo ($640/1h)(1390 Charm)
Lady Killer ($705/1h)(1520 Charm)
Money Stud ($850/1h)(1700 Charm)
Super Meat Boy ($999/1h)(1880 Charm)
Random events
Edit
You went to a party and drank your face off. +35 CHA
You got a hair-cut. A super awesome one. -$50 +57 CHA
A female golf pro was lonely. She paid you to make her unlonely. +$14,000 +22 CHA -30 KMA
A cute geek chick hired you to play video games all night. Easy money.  +$3800 +10 CHA
You caught a strange disease. Yikes. -15 STR -20 CHA
You did some modeling for a local underwear company. +5,500 +41 CHA
You set up a new website to increase your umm... sales. +31 INT
Your 'he-pimp' ripped you off. -$240
A celebrity paid a premium for your services. +$19, 000 -10 KMA +57 CHA
A 80 year old billionaire took you out for a night you will never forget. Yuck. +$64,000 -60 KMA
A really hot girl took you out. She was gorgeous but still paid for everything. +$2,000 +66 CHA